Women's Secretary
Niki Wakelin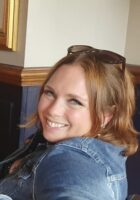 Niki is the Women's Secretary – a new role created in 2022 following rapid and exciting growth in girls' football at the club. 
Niki and her co-manager Amy started an U11 girls' team 'The Starlings' 3 years ago to allow their football-mad girls a chance to play. The team (now U13) has a squad of 26 and two competitive teams are being fielded this year – a great example of the appetite for girls' football locally. Watching the squad develop is a huge pleasure, with 3 of the girls having county trials this year. 
Niki has always loved football and is a keen supporter of Wolves (don't ask) and loves watching The Lionesses whenever possible. Her whole family are involved in the club with her son playing for the U15 Hawks. The entire weekend during the season is muddy boots and early starts!
Niki and Amy are currently the only female coaches at the club and Niki is really keen to bring some energy and focus to the girls teams at the club. The future is female!